Market positioning
Market positioning is about creating a perception or place about a company relative to its competitors based on specific attributes such as product or brand image. Take the iPhone as an example. Consumers perceive the iPhone as an innovative product at a premium price compared to other smartphones. In this case, product innovativeness and price are attributes consumers use to rank or position products in the market.
Establishing a market position requires steps such as:
Identify product advantages or unique selling propositions such as features, price, or even brand image, company image
Using the appropriate marketing mix to apply the desired positioning
Highlight a unique selling proposition to the target market through promotion to create a perception
Corporate image is an impression about a company, possibly related to the brand and products it owns. It is about how people generally see and understand the company. An excellent strong image is essential to build trust and loyalty.
Meanwhile, a unique selling proposition makes a product valuable and different from competing products. It encourages consumers to buy and choose the company's products over competitors' products. We also call this a unique selling point.
Target marketing
Target marketing involves developing a marketing strategy, formulating a marketing mix, and concentrating marketing efforts on the target market. Market targeting could be:
Concentrated marketing
Undifferentiated marketing
Differentiated marketing
Concentrated marketing targets a narrow market with specific customer needs. Companies develop products, and other marketing mixes to meet their needs and wants. This is also known as niche marketing.
Undifferentiated marketing ignores market segments and targets all consumers in the market. This targeting assumes their needs and wants are homogeneous. Thus, the company will target as many consumers as possible to maximize sales volume. This is also known as mass marketing.
Differentiated marketing develops different marketing mixes for each selected segment and accommodates their varying needs and wants. First, the company divides the market into different segments. Then, they choose two or more segments to target and develop an appropriate marketing mix for each. This is also known as selective marketing.
Product strategy
Product strategy is a way to achieve marketing objectives and generate profits from selling products. It considers the target market and other marketing mixes such as price, place, and promotion.
Product positioning
Product positioning is where a company wants its product or brand to be in the market. It is concerned with creating perceptions and impressions of the product relative to other products in the market.
Product positioning is similar to market positioning but slightly different. For example, market positioning may be for more than just one product but for the entire product or the company's image, depending on the company's branding strategy.
Companies usually define product vs. competitor products in a product perception or position map matrix. It uses two variables:
Price vs. Quality
Convenience vs. Durability
Price vs. Content/Features
All products on the market are then plotted into a two-dimensional matrix according to the two variables selected.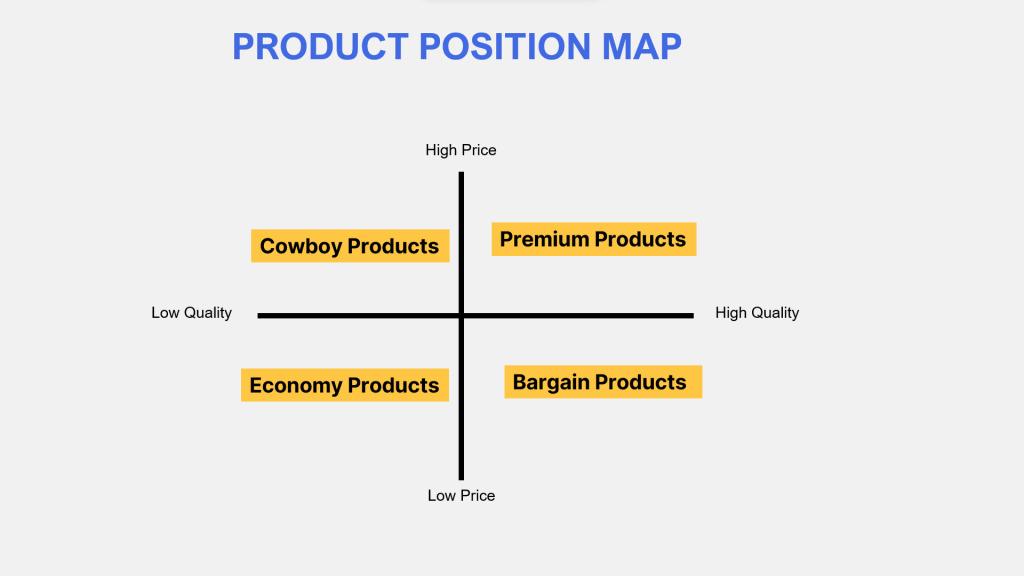 Let's use the quality and price attributes. Products can then be divided into the following four groups:
Cowboy products: low quality and high prices
Economic products: low quality and low prices
Bargain products: high quality and low prices
Premium products: high quality and high prices
The importance of product positioning
Creating a product position map is important for several reasons:
Understand on what basis the products in the market compete
Which competitor's product is closest to the company's product
Identify gaps in the product portfolio or in the market
Product gaps give companies the opportunity to fill them to get more sales. It's possible with the following:
Launching a new product
Marketing existing products but currently being sold to other segments
Improve existing products in the current segment
Coordinated marketing mix
Product positioning requires a coordinated marketing mix. Product, price, place, and promotion must all convey the same and consistent message to consumers. They also support and strengthen one another.
For example, the company sells high-quality products.
Product. The company creates a product with high specifications, features, and quality. Uniqueness gives reasons for consumers to be willing to buy at a high price.
Price. The company sells the product at high prices to reflect its uniqueness and superiority. A high price is also important to build the perception that the product is precious.
Place. The company relies on niche distribution channels instead of mass channels. They also prioritize personal selling.
Promotion. Promotions are carried out carefully and use special media to influence customer perceptions more deeply.
Meanwhile, for mass products, the marketing mix may involve the following:
Product. The company creates a standardized product, almost similar to competitors' products, and focuses on achieving a lower cost structure.
Price. The company sells the product at the average market price. Or, it sells slightly below average to attract more customers if its cost structure is sufficient to support that pricing.
Place. Relying on mass channels is the leading choice to reach as many consumers as possible.
Promotion. The company relies on the mass media to attract as many consumers as possible.
The 4 C's vs. the 4 P's of Marketing
The 4 C's of marketing is a marketing model for satisfying needs and wants using a consumer-centered approach. It is an alternative to the conventional marketing mix (4 P's or 7 P's). While the 4 P's model uses the company's point of view. The 4 C's use the consumer's point of view.
The 4 C's stand for:
Customers
Cost
Convenience
Communication
4 P's v.s 4 C's
Product vs. Customer solutions
Price vs. Cost for customers
Place vs. Customer convenience
Promotion vs. Communication with customers
Customer solution
Consumers see products as solutions to their problems. Therefore, they see the product, not as a sale item. Instead, they buy the product because it provides a solution for them.
This requires companies to rethink about:
What do consumers need and want?
What are the differences in needs and wants among consumers?
What benefits does the product offer?
How does the product meet consumer needs to solve their problems?
Cost
While consumers see products as solutions to their problems, they see price as a cost. The product benefits them because it provides a solution. But, on the other hand, they must pay a cost to obtain these benefits.
Therefore, they will compare the benefits and costs they incur to obtain these benefits. They buy products if the benefits they receive are higher than the costs they incur.
Thus, in setting prices, companies not only consider production costs but also consider the following:
Benefits received by consumers
Consumers' purchasing power
Consumers' willingness to buy
In this case, customer-based pricing (value-based pricing) is ideal. Companies set prices for their products based on the benefits they provide to consumers.
Convenience
Consumers want products available when needed and at the location closest to them or most preferred. This requires companies to rethink the answer: how easy is it for consumers to buy products?
Companies must ensure products are readily available to consumers, which involves:
Strategic product placement at several distribution points for faster and more efficient logistics
Selection of the right place where consumers feel comfortable, including related to the sales location, layout, and decoration
Understanding consumer buying behavior, for example, some prefer to use credit cards over others
Explore how some customers prefer to buy in specific locations over others, for instance, from the internet or a retail store
Communication
Communication emphasizes the mutual give and takes between companies and consumers. This contrasts with the promotion in the marketing mix, which is considered a one-way communication and is manipulative to stimulate consumers to buy.
Companies must communicate products honestly to consumers. They create two-way conversations and open dialogues with potential customers based on their needs and wants. Thus, companies need to listen to customers whenever they give feedback.
Unique selling point
A unique selling proposition or selling point is a differentiating factor between the company's and competitors' offers. It makes the product stand out from competitors' products and explains why customers buy products over competitors' products.
For example, Coca-Cola sells fresh drinks and is unavailable elsewhere thanks to its secret recipe. Nike promotes products as high-tech and innovative with cutting-edge designs.
A unique selling proposition promises clearly articulated benefits to consumers. It offers them something that competing products cannot or do not provide. So, if successful, it can entice consumers to buy.
Developing a unique selling proposition provides several benefits, including:
Be a source of competitive advantage
Higher opportunity to charge a high price
Positive publicity from customers
Increasing market share by attracting new people to buy
Leads to brand loyalty by making it stand out and better than competitors' products
Product differentiation
Product differentiation is the degree to which customers perceive a product to be different from one another. For example, a company differentiates its products from competitors to give consumers reasons to choose and see its products as the best in fulfilling their desires.
Companies develop product differentiation through actual advantages such as design, performance, or price. Or, they do so by creating the consumer perception that a product is valuable beyond its physical characteristics.
Ways to achieve product differentiation:
Develop high-quality products
Introducing a cutting-edge new design
Embedding advanced technology
Selling at a high price to impress the product as premium
Promote advertising and marketing campaigns to highlight products
Build strong branding
Provide after-sales service and warranty
Growing products
The Ansoff Matrix illustrates how a company grows sales considering its product and target market. It divides the growth strategy into four, namely:
Market penetration. The company focuses on existing products and markets. The company increases sales by strengthening its market position in existing markets, for example, with heavy promotions.
Product development. The company creates new products and markets them to existing markets. First, it involves generating new ideas and concepts to design new products or modify current products. Then, the company sells it to the market segment it currently serves.
Market development. The company targets new markets to market existing products. For example, they sell products to foreign markets or target other market segments.
Diversification. The company launches new products in new markets. It may target related businesses to existing ones (concentric diversification) or completely different ones (conglomerate diversification).