Stakeholders have different interests and goals, which are often contradictory. Stakeholder conflicts occur due to disagreements between stakeholders. There are some examples to explain it.
For example, employees want a higher salary. Conversely, shareholders do not like it because a raise lowers profitability, reducing their dividends. In addition, lower profitability can also impact a company's share price, lowering the potential for capital gains.
Take another example. Shareholders favor the business decision to relocate production facilities abroad because it makes operations more efficient. But, because it reduces job creation, the government is unhappy with the decision. Likewise, staff also do not like the potential for job loss.
Handling conflict often raises dilemmas in decision-making because each contributes to business success. Therefore, companies need to take measurable steps to address stakeholders wisely.
Stakeholder analysis
Conflicts between stakeholders require companies to make priorities. They must manage conflicts and deal fairly with stakeholder interests and expectations. Before setting priorities, they must analyze who the company's stakeholders are, what their interests are, and how strategic their influence is on the company.
The first way is to map stakeholders to identify which are strategic and which are not. How strategic they are depends on how vital their interests are and how significant their influence is on the company.
The analysis helps identify and evaluate company stakeholders. It helps to assess how strategic each stakeholder is for the company.
Stakeholder analysis helps identify and evaluate company stakeholders. It allows companies to map out strategic stakeholders and those who are not.
Such evaluations are essential to assist management in prioritizing policies and developing strategies to address them. So, they can prioritize strategic stakeholders first before less strategic ones and not vice versa.
Stakeholder map
A stakeholder map is a tool to assist companies in analyzing their stakeholders. Sometimes we also call it the stakeholder priority matrix.
The matrix categorizes and groups stakeholders based on how strategic they are for the company. It uses two sizes:
Their interest in the company
Their power to influence the company
Each variable has two attributes: low importance vs. high importance and weak influence vs. strong influence. What the stakeholder map looks like, you can see below.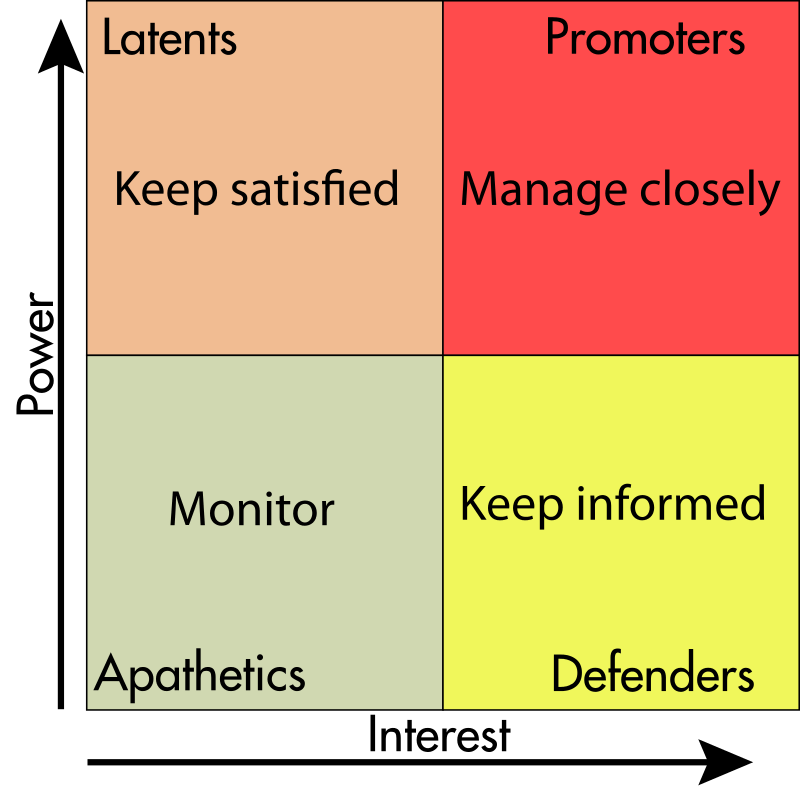 Through such a map, companies should prioritize those that are strategic for the company's success. They significantly influence the company.
For example, companies must closely manage "promoters" because they have a significant stake and strong influence over the company's success. Thus, companies must establish strong long-term relationships with them.
Handle and resolve stakeholder conflicts
Companies require stakeholder management to deal fairly with stakeholders and optimally accommodate their interests to maintain good long-term relationships. Through the map above, companies identify who their stakeholders are, identify their interests, determine their significance, prioritize, and manage relationships with them.
However, dealing with conflict is more challenging than it is in theory. Therefore, not all companies successfully deal with conflict.
There are several valuable solutions for dealing with various stakeholder conflicts, including:
Employee participation
Profit-sharing scheme
Share ownership scheme
Arbitration
Employee participation
Increasing employee participation can be a way to reduce conflicts between employees and management. How to do it can be done through several methods. An example is by improving communication through regular meetings and feedback.
Delegating decision-making is another example. Allowing employees to make decisions about their area does more than increase their involvement in their job. But, it is also a motivating factor to make them more excited.
Delegation is also crucial for fast and effective decision-making. Employees are more aware of the problems around them. Thus, their decision-making may be better for solving problems than their managers.
Another way to increase employee engagement and participation is through professional development. Employees like it when they have the opportunity to grow professionally. As well as contributing to job satisfaction, professional development is essential for increased productivity and innovation.
Profit-sharing scheme
The company shares profits not only with shareholders but also employees and management. It reduces jealousy between employees and management as they get less share for all their efforts to maximize profits.
The profit-sharing scheme involves the company distributing bonuses which are based on the profits earned by the company. Each employee's bonus may vary, depending on their performance and achievements.
Share ownership scheme
The share ownership scheme is an alternative to the profit-sharing scheme. The company offers employees and management to own the company. In other words, they also become shareholders. The well-known programs are the employee stock ownership plan (ESOP) and management stock ownership plan (MSOP).
ESOP and MSOP can be a way to compromise the employee's and management's interests with shareholders. On the one hand, both programs motivate employees and management to work more productively because they ultimately contribute to increasing their wealth by increasing the company's share price.
On the other hand, existing shareholders are also happy because their wealth value has also increased. The increase in share price makes them earn higher capital gains. In addition, they have the potential to get more enormous dividends because the company's profits are higher due to increased productivity.
Arbitration
Arbitration is a solution to resolve industrial disputes between employees (through labor unions) and management by presenting an independent third party (arbitrator).
The arbitrator has no interest in the conflicting parties. Thus, they are independent and impartial in making binding decisions in resolving disputes based on the evidence submitted by the parties.