Economic expansion is a period when economic activity increases. Real GDP and other output indicators, such as industrial production, grew positively. In a business cycle, it occurs after the trough phase and before the peak phase.
After exiting the lowest point, the economy began to recover and strengthen. The final phase of economic expansion is a boom.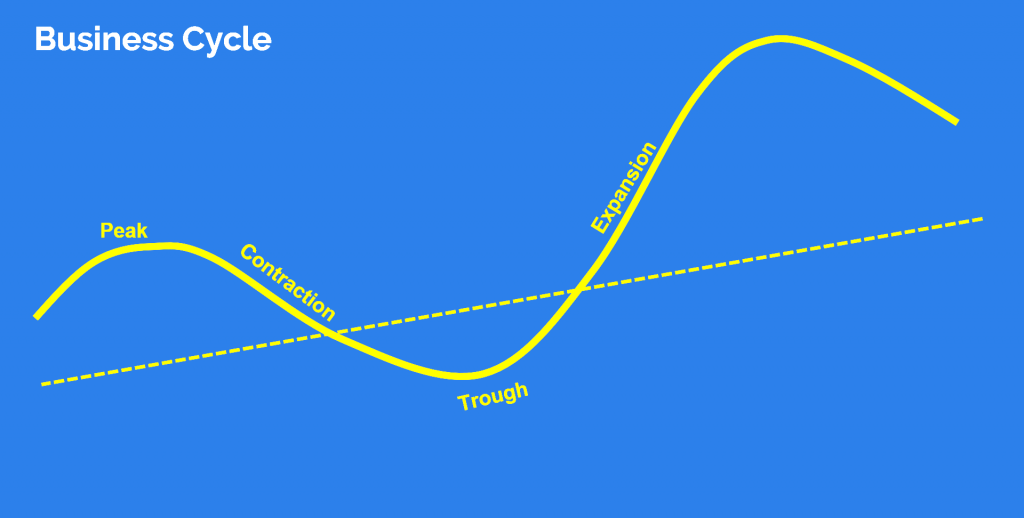 Characteristics of economic expansion
During economic expansion, real GDP grows. Production of goods and services increases. Inflation and interest rates usually also tend to increase.
Increased production activities create more jobs. As a result, the unemployment rate is also low. The supply of qualified labor began to diminish, prompting workers to demand higher wages to compensate for purchasing power lost due to inflation.
Economists usually distinguish the expansion phase into two periods, recovery and boom. Both periods have different characteristics.
Economic recovery
Economic recovery is the first period of expansion after the economy exits the trough phase. During this period, interest rates were still low in line with the implementation of the central bank's expansionary policies.
Economic activities start to rise. Growth of real GDP and production indicators change from negative to positive.
The unemployment rate usually remains high. Although layoffs decline, businesses yet hire new full-time workers. As an alternative, they increase overtime hours and recruit temporary workers to meet growing demand.
In the household sector, demands for goods and services has begun to grow. Getting the benefits of low-interest rates, consumers usually increase purchases of durable goods, which mostly financed by loans.
Meanwhile, businesses have not ordered heavy equipment or built new factories. Instead, they prefer to order some lightweight equipment. They are not optimistic enough and are waiting for stronger demands before investing more.
Because demand growth is relatively low. Inflation remains moderate.
Boom
During this period, economic activity showed a faster rate of growth. Demand for goods and services grew solidly. Inflationary pressures on the economy are also getting higher.
Businesses are optimistic and see positive future profit prospects. They then expand output and hire full-time labor. They start to order heavy equipment and build a new factory to meet the high demand. As a result, the unemployment rate has decreased.
When the economy approaches its potential level, inflation begins to surge. The unemployment rate is also close to its natural level.
When trying to increase production, businesses are faced with a reduced supply of qualified labor. To attract new workers, they began to raise salaries. On the other hand, workers also renegotiate for higher wages to offset decreased purchasing power of wages due to high inflation.
Businesses pass higher production costs on selling prices to maintain profitability margins. Because demand remains strong, they are not worried about falling demand due to rising selling prices.
The increase in selling prices will eventually bring the inflation rate to go faster. As a result, the economy is overheated. To prevent the fall in the purchasing power of money due to high inflation, the government adopted a contractionary policy.
What to read next
Economic Expansion:  Meaning, Characteristics